Up Next: 2018 Elections
First: CONGRATULATIONS to our Democratic victors in the November election. Statewide, Justice Debra Todd won her retention election and is in line to become the first female Chief Justice of the PA Supreme Court; Judge Maria McLaughlin, Judge Deborah Kunselman and Judge Carolyn Nichols have been sworn in as newly-elected Judges of the PA Superior Court; and Judge Ellen Ceisler takes her seat on the Commonwealth Court. Locally, we have many new municipal leaders and school board members.

SECOND: THANK YOU to all our Democratic candidates who put their lives on hold and ran for public office but were not successful in their quest. Do not look at the results as a defeat; rather, view your efforts as an experience to be shared with future candidates and a step toward your own future campaign(s).

"ALL POLITICS IS LOCAL" - Tip O'Neill
This is your chance to make a difference, starting in your own neighborhood.
And we can help!


Are You Thinking of Running for Office?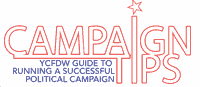 Download "Campaign Tips, a YCFDW guide to running a Successful Political Campaign." Compiled by a former YCFDW member (Linda Rogers) for Democrats everywhere, but especially for the York County Federation of Democratic Women.