General Meeting Note:
We are not a "ladies who lunch" group, although we do enjoy breaking bread together. We feature speakers at our monthly meetings and special events to keep our members informed of pending legislation and issues impacting our communities. We are particularly interested in those issues related to equality, health and family, and women in general. We also stay connected with our candidates and elected officials. The networking and mentorship opportunities available are empowering to us personally, professionally, and as a community.

For 2018, we have a variety of committees and activities focused on getting things done from the grassroots up. We hope to see you at our next meeting. There's a seat at the table for you.


Meetings:
WHEN:
Meetings are the FOURTH Saturday of the month unless noted otherwise
Meetings begin at 12:00 pm but please join us between 11:30 am and 12:00 pm to enjoy lunch with your friends. (Lunch is at your own expense).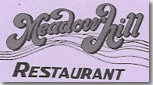 WHERE:
Meadow Hill Restaurant
2935 East Prospect Road, York, PA 17402
Click the image to the right for a map & directions.