General Meeting Note:
WHEN: Meetings are the FOURTH Saturday of the month unless noted otherwise
Meetings begin at 12:00 pm (noon) but please join us between 11:30 am and 12:00 pm to enjoy lunch with your friends. (Lunch is at your own expense).
WHERE: Meadow Hill Restaurant, 2935 East Prospect Road, York, PA 17402
(Note: this is a new location)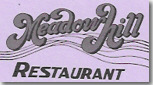 Click the image for a map of this location.

2017 Meeting Schedule

January 28 - "Brainstorming Brunch" - Reviewing our plans and goals for 2017 and beyond

February 25 - Guest Speaker - Sandra Thompson, President, York Chapter NAACP and
Judge Carolyn Nichols are the featured speakers for "Black History Month"

March 25 - Guest Speaker - Anne Grey, York County Historian

April 22 - Guest Speaker - Kevin Schreiber, President and CEO of the York County Economic Alliance

May 20 - Guest Speaker - TBA

June 24 - Guest Speaker - TBA


July 22 - No Meeting

August 19 - PAC Fundraiser - (See Invitation)

September 23 - Guest Speaker - TBA

October 28 - Guest Speaker - TBA

November 25 - Guest Speaker - TBA

December ?? - Holiday Party - TBA

Our New Look !!!
Please excuse us while we remodel
We are changing the way we look and updating the features of our website but we're too excited
to wait until it's finished! You may find some areas - or even a page - that is incomplete or has
Latin words on it. For now, it's just 'placeholder' information as we finalize our deign and content.
Thank you for your understanding.
2016 - 17 Officers
President: Deb Yonick-Kalina
Vice-Pres: Alana Haag
Secretary: Sandy Gordon
Treasurer: Darlene Smith
Membership: Susan Booker
Corres Sec: Marlene Nelson